Byond Account: tramz
Character Name(s): Cygnus XZ
Discord Name: tramz#9493
Round ID: 21255
Date: 7/17/22
Griefer IC name: Crabus Ravus
Griefer Byond account (if known): CrabRave
What happened: I was playing medical doctor as Cygnus XZ, and Twox enters medbay and shows classic signs of being obsessed. After almost killing the CMO, Twox is brutally murdered out of self defense by 4 others, one of which being Crabus, and I tell the CMO (his target) that I will be curing him and reviving him. Crabus stays in the morgue, INSISTING that I give him Twox's body. I say no, and tell him politely to leave me alone while I am trying to fix Twox up. Multiple times he refused to listen, and finally after I patch up Twox, he cryostings me and knocks me into crit. What happened after is beyond me, until we enter the ooc chat. According to Twox, Crabus then proceeded to round remove Twox and then toss his brain to a bartender after realizing I had already fixed the obsessed trauma, all because he wanted to work together with him as an antag, and seeing as I had removed his antag status, he just round removed Twox for no reason. Upon confronting him in ooc chat, multiple people are calling him out for his behavior, and he is deflecting all blame, saying how he is an antag and he was allowed to. Here are some logs from the ooc chat of that round just to back up some of the things I was saying.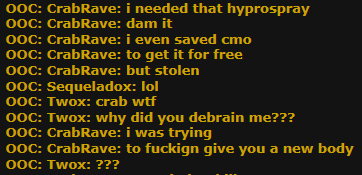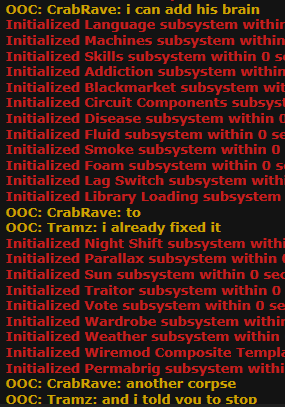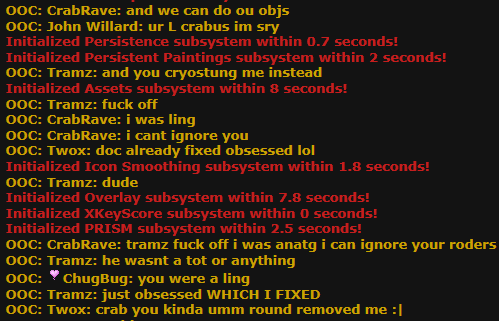 Here are his antag objectives by the way, none of which include round removing Twox.