Byond Account: Jenkins27
Character Name: Weston Smith
Discord Name: RandomMalware#9356
Round ID of Ban: 13458
Ban Message:



State your appeal: The ban message contains several lies. (Horatio22 confirmed with me
these were not mistakes, although I find this very hard to believe it is what they said when I
asked)
"Correct" ban message: (this however does not warrant a ban and is therefore
paradoxical) As acting Research Director, I wiped a not malfunctioning or subverted AI
despite having it in an intellicard because it resisted a legitimate attempt to card it by the
Captain, Research director and HoP with non-lethal methods and six different non-security,
non-command individuals claimed it was malfunctioning, as it was found to be not so, the
only possible conclusions were that six separate people were lying in combination, that they
had all made a mistake or that the AI was breaking its laws. The captain had previously given it a direct order to let itself be carded, it reenabled AI satellite turrets after they were turned off and activated the defence foam. An engineer had also attempted to card it and claimed the AI shocked doors to its satellite when they tried to do so, this engineer had not been given permission to enter the AI satellite , although the AI still (may have) committed harm against them. Original suspicion was about it claiming acquiring metal may cause human harm and lying about the purpose of the EVA reconstruction materials.
It should be noted that I was promoted to acting Research Director against my will, and was not even in the science department and was trying to coordinate the construction of a Blue-Space Artillery at the same time. I do not wish to be forced to try inform a member of non-staff that I have been banned while remaining in-character, which is what would be required if I was promoted against my will again while this ban is still active, although this is unlikely to happen. I had never wiped an AI before and I intended to have it cyborgised and slaved to the new AI to prevent further issues, however the shuttle arrived before I could do so. I don't know why it never occurred to me to make an ahelp at the time.
Relevant images (limited to one image and two hyperlinks per post): (EDIT: moved hyperlink down one line because it was bugging me)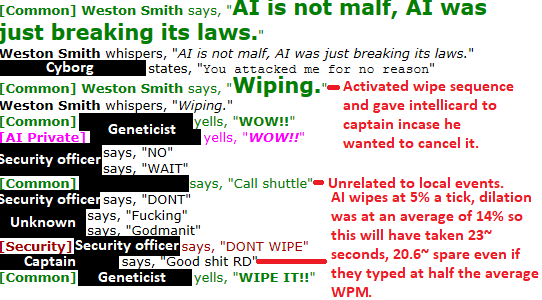 (EDIT: Second link went to wrong thing)