Byond Account: LugDaSlug420
Character name: Lug Feelgood P.H.D
Discord name: LugDaSlug#0117
Round ID of Ban: 18987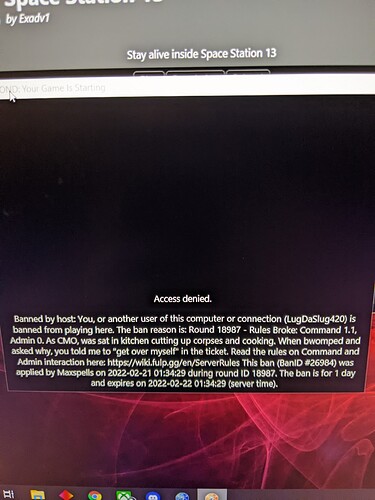 Hello there id like apologize and repeal my ban from last night as I feel the actions in game were not against rule but that my response to the admin ping was uncourteous and rude and was not handled in the manor I should have. id like to apologize to maxspells for that I was under the influence of liquor and was having a bad day when I told him to "get overhimself". That being said I believe my in game actions were following roleplay and there were no actions harming other crew members. The actions I was pinged for were going in the kitchen to cook a husked body as roleplay lore had been established by the A.I. that I was a cannibal I thought it would be funny to indulge without hurting any non husked crew members and I spent very little time actually in the kitchen. Prior to this I was fufilling my dutys as cmo by getting cryo up, improving the operating room, and doing research for the medical department. After I had finished Eating an arm or two, I returned to medbay and continued to do my dutys until the ban came through.