Byond Account: Khardyce
Character Name(s): Vee, Voltes V.E.E.
Discord Name: Vee
Age:30
Timezone: GMT-4
Active hours: No consistent time. Generally early morning/ late at night.
Are you interested in becoming a mod?:
Perhaps. I'm not entirely certain what that duty would entail.
How long have you played on Fulpstation?
About 400 hours since September 2020.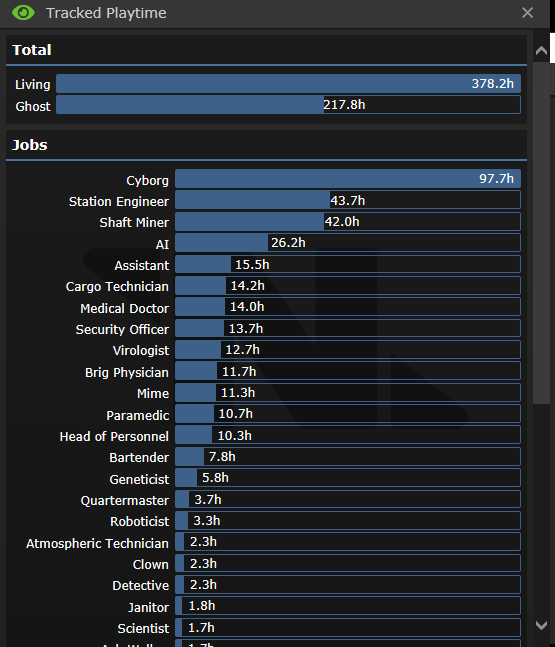 What departments are you able to be a mentor for? Can you elaborate on your experience in those departments?
SILICON:
The majority of my playtime is on silicon, more specifically medical and engineering borgs. Because of this I'm good at interpreting laws and can help answer questions with respect to that as well as anything control or mechanics related. I'm pretty familiar with AI too.
ENGINEERING:
I've spent quite a lot of time as a station engineer/engie borg and can fix or construct virtually anything on the station including all the station objectives. I know how to set up the SM and prevent it from delamming in most situations. I'm sure there are still a million niche things I don't know as engineering is a pretty robust department with what feels like limitless potential, but that's exactly what makes it so fun to learn and do. I have less experience as an atmos tech, but I do know how to set up the turbine and improve the air distribution network.
SUPPLY:
I play shaft miner fairly often and I know quite a bit about the various tools and methods of mining. I can beat SOME of the megafauna consistently, but the majority still kick my ass. More recently I've been playing cargo tech and QM and have been loving it. I know how to order whatever supplies the station needs as well as how to make decent money to keep those orders flowing.
MEDICAL:
This was my favorite department when I first started playing SS13 (most of my time in medical was spent as a mediborg since I found borgs easier to use as a new player). I know the majority of surgeries by heart, I know how to dehusk and re-blood as well as how to use most of the chems to speed up patient recovery. I also know a fair bit about virologist such as how to make numerous beneficial diseases for the crew as well as how to create vaccines and prevent terrible diseases from decimating the station. Chemistry on the other hand is one of the few jobs I haven't explored yet. It seems pretty complicated!
SCIENCE:
Science is one of my lesser played departments overall. I know how to create and harvest the various slimes in xenobiology as well has how to hybridize them. I know how to create and maintain borgs as a roboticist and to a lesser extent make mechs. As geneticist I know how to discover mutations and create a DNA console to distribute space adaptation when it's needed. That's pretty much all I've done in the science department.
SECURITY:
Perhaps my worst department. I really, really want to get better at security but my robustness in combat is in the negatives. Because of this, I get a lot of negative attention from fellow sec officers and crew as they witness my fumbling, haha. I know space law decently, I know how to scan for evidence as detective, I know how to use body cams and the various guns, batons, and other tools that sec officers use and that's about it. If I uncover antag activity usually it means death for me if I'm alone, or disappointment from my peers if I'm not.
SERVICE:
For a long time I avoided playing service. More recently I've been playing bartender and I know a fair bit now. I can make many drinks pretty quickly and I know and like to make quite a few of the more exotic drinks that require interdepartmental ingredients.
COMMAND:
The only command I've played is HoP, but I feel I understand it pretty well. I know how to grant access, do job changes, terminate employment as well as how to secure the disk and preform several minor duties as acting captain when I have to. I could maybe play chief engineer too, but because I'm not amazing at atmos I've been afraid to haha. Same with respect to CMO and my lack of chemistry knowledge.
What are some things you've noticed as a player on Fulp?
While there are numerous people (usually regulars) who are incredibly nice and helpful, often people who are new at a job or the game in general are called "morons," "idiots," ect. by other players in response to their understandable incompetence at the role. This really frustrates me because being bad at a new role (or the game in general) is completely understandable and not at all a reflection of their intelligence as a player. Because of this I try extra hard to identify when someone is new and help them understand their job and how to preform better in a nice way.
Though I havn't played other servers I really doubt its a fulp specific problem and I'm sure it's even worse on other, less noob friendly servers. It's just something I noticed when I was a new player myself, and that I still notice happening to new players (or players trying a new role) around me. Overall though fulp is a great server with a great community and I can't imagine playing elsewhere.