Byond Account: Twox
Character Name(s): Twox, Clownpiece (as infiltrator after being clowned), Butterfly
Discord Name: Twox
Round ID: 22241
Date: 17/09/2022 (uk date)
Griefer IC name: Unknown
Griefer Byond account (if known):
What happened:
Someone ended up clowning half the station with the colossus crystal.
Cap kept ordering to "KoS" all clowns?
A hulk tried killing a clown on the shuttle, ended up stabbed to crit by another clown sitting down with a giant sword.
An unholy amount of shuttle grief. I saw probably not good gas, a chaos staff being used (the wizard was long dead after mindswapping into me), MANY murders including someone shooting me point blank (I was a butterfly at this point making a disco floor).
Sorry but I have 0 specifics on who did what other than it was the clowns who were mostly being murdered.
(Also unrelated but I think the chaos staff is bugged to something I literally got sent to Limbo)
Birdboat shuttle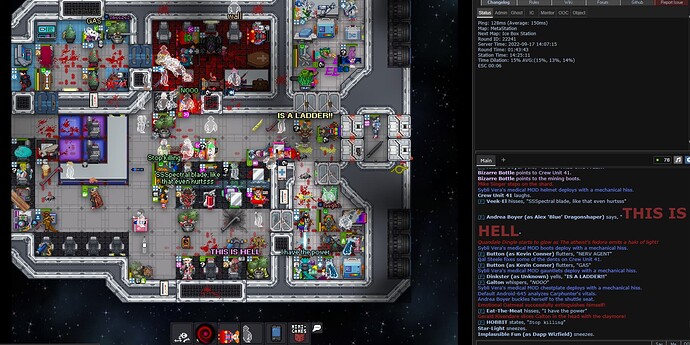 Limbo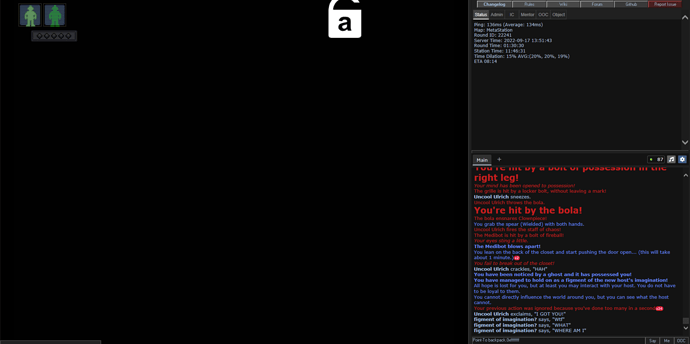 God is dead and we killed him.