Note: I need this thread to take notes, interest and tweaks to a new job before I PR.
This job has already been coded, I'm just looking for some feedback
Job: Head Surgeon
Contents:
Overview
Concept
Standard Duties
Loadout
Why does this exist, or: "How I learned to stop drugging and love the surgery"
Overview
Job Description (In the style of the TG wiki)
Be the CMO's Second in command. Cut people's eyes out with a scalpel. Steal patients from the doctor. Steal the flash from robotics and flash the paramedics repeatedly. Actually use the surgery room, for repeated Lobotomies.
Concept
Much like the Warden is to the HOS, The Head Surgeon is to be CMO. They should be promoted first to CMO. The Primary Treatment Centre and surgery is their domain as well, and they should give loose directions to the doctors.
Along with this, They should be taking over lengthy surgeries and obtaining prosthetics from robotics. They are the bridge between Medical and Science as well, and may communicate between the RD and Medical in case of an absent, incompetent, or incapacitated CMO.
They should be another line of defense from medical turning into a disorganized mess.
They should also assist in teaching new doctors, and should be knowledgeable in the MD part of medbay, specifically surgery and revival.
Standard Duties, in order of importance:
Perform extremely long surgeries.
Acquiring extra prosthetics from robotics.
Organize stasis room while the CMO is out.
Teach medical staff when the CMO is unwilling or unable to. This includes having extensive medical knowledge.
Perform Coroner's Duties. this includes giving the dead formaldehyde and also properly harvesting organs.
They are NOT to touch Pharmacy or Chemistry. This is not their job.
They are there to bring orders to the stasis room.
Requirements, Loadout, and access:
Requirements: 12 Hours Medical
Available Slots: 1 Roundstart, Max 2.
Access: Medical, Surgery, Morgue, Medical Mechbay, Robotics.
Clothing:
White Suit: This looks quite professional while also having the sterile white doctor feel.
Also, the Head Surgeon should not be dealing with chemicals what
Stethoscope.
Surgical Mask.
Latex Gloves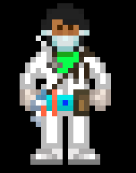 Equipment:
Medical Belt.
This is filled with The Health Analyzer, and a full set of surgical tools.
Surgical Apron.
This is for when the Head Surgeon does surgery, if they wish.
Medsci Radio.
Because they have Robotics access, they may need to talk with robotics. This will be essential.
Formaldehyde Bottle.
To stop Corpses from rotting during surgery
Bone Gel.
Surgical applications.
TBD:
I may add in a selection of these items, based on feedback.
Sterilizer Gel.
Bonesetters.
Blood filter
Please note that the Head Surgeon does not start with a Medical Aid Kit. They are not supposed to be doing menial tasks like applying sutures and mesh.
They also should not have a health scanner HUD, because they do not need to really look at patient's health until they are ready for revival. They should not be taking in half dead patients either. They should stick to surgery.
Why does this exist, or: "How I learned to stop drugging and love the surgery"
I conceived of this idea when I realized how much I was actually outside of stasis room as CMO. The Head surgeon fills in all the gaps that a CMO doesn't have time for, while still remaining on par and, In my opinion, different from MD. Their access including robotics allows us to print extra limbs, on some maps we don't get any prosthetics, and on most we get two of each. So often do I see MDs work for 10-15 minutes on a single patient with all dead organs while other patients rot on the floor.
The Head Surgeon is supposed take those rotten corpses, and while they are being fixed by someone that should be experienced, the doctors can triage multiple, less damaged patients.
The robotic access might be a little much, but someone needs to print prosthetics if we run out.
Since we are a beginner's server, the Head Surgeon is another tool to teach one of the more difficult and important departments in the game.
ID and HUD icon



To do:
Change where it is in the ID console, right now it's right after prisoner
Get it spawn points in medbay
Maybe give it a unique labcoat or smth
I like the suit but if I get a lot of criticisms I'll change it
Might change the job slots to 2 roundstart max 3 and down the MD slots to 10. Still unsure.