Byond Account: bemlakurdo

Character Name(s): Fergus Flawsome

Discord Name (ie: Name#1234):klippklar#8403

Round ID of Ban: 16698

Ban Message (Gyazo/imgur or copy and paste):


State your appeal:
Me and other miner start as cult, third miner surprised us when we were converting the fourth. Third miner then comes after me and permanently round removes me (kills and tosses me in lava).
I recently reread the rules and I remembered this to be against them. So I ahelped about it and Tom F Hardy responded he's gonna investigate. Some time later I saw the miner still hunting after cultists and I replied to the ticket. He said he marked it as an IC issue and promptly closed the ticket before I could respond. I ahelped a second time saying It's not an IC issue. He promptly muted me in ahelp. I asked in deadchat if it is against the rules to which Tom permannently deadchat muted me.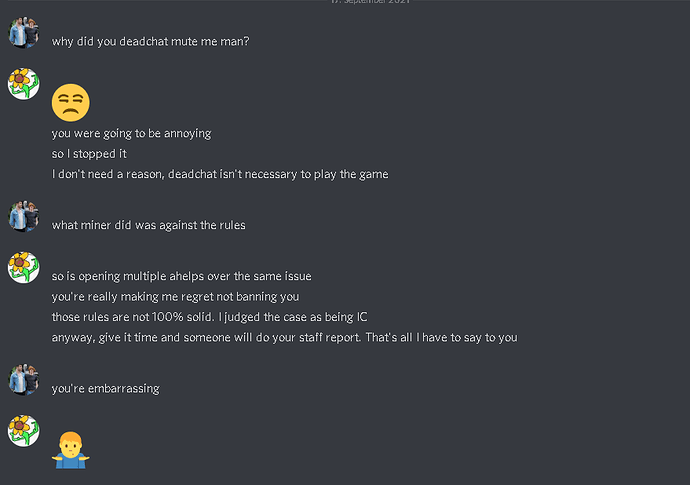 To which he immediately banned me.
Come on man, I know we had a little runin recently but yeah it's gonna piss me off when you mute me in deadchat for asking a simple question. Maybe you've assumed I would've pushed the issue in deadchat but that's far fom truth. I didn't pm you on Discord to insult you, but you're being a jerk over a minor thing that happened like two weeks ago.
I know I sometimes run riot on this server but I've tried my best to adapt to the rules as I come to like most of staff and the general mindset here. Stuff like this just leaves a sour taste.