Byond Account: Puny_Edward
Character Name(s): Jesse Pinkmen, Eduardo Barrett
Discord Name (ie: Name#1234): 12345671#8608
The round ID of Ban: 10850
Ban Message (Gyazo/imgur or copy and paste):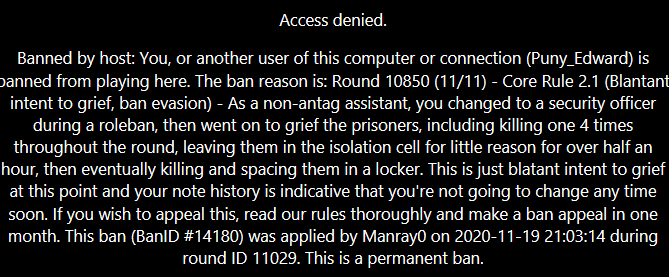 State your appeal: First of all, let me explain what I will detail in this appeal, Remorse? absolutely, and regret, I am not going to start saying "It's not my fault,", It was my fault and I bear the full responsibility, And I apologize for that, this was the old me, I am no longer this, And I will ensure that I really do wish to keep on playing on this server, and I really apologize for ruining the fun for the player because of my absolutely disgraceful irresponsibility, I learn from my mistakes and I ask for the admins to please, look upon this beloved Christmas to give me a chance to redeem myself, I am no longer that person, I changed and I am willing to show it and promise it. I apologize to the player, I apologize to the admins for wasting their time on me, and I swear I will never ever do such a foolish thing, I'm a changed man now and I'd love to get back into Fulp, as I miss the server dearly, I will not cause any more issues and I wish for the admins to have a heart of gold to give me a chance, I also apologize to Manray for wasting his time, thank you. I know that I've committed many other mistakes, and you will look at me as a repeat offender, but I promise with full honesty that I changed and I wish to keep playing with pure goodwill, so I ask for the admins to please consider this beautiful Christmas the proper date for my unbanning, again, thank you. I have fully read the rules and I now consider myself fully familiar with them.