Byond Account:Fatcat1234
Character Name(s):Ed Chiton 
Discord Name (ie: Name#1234):Fatcat
Round ID of Ban:22929

Ban Message (Gyazo/imgur or copy and paste):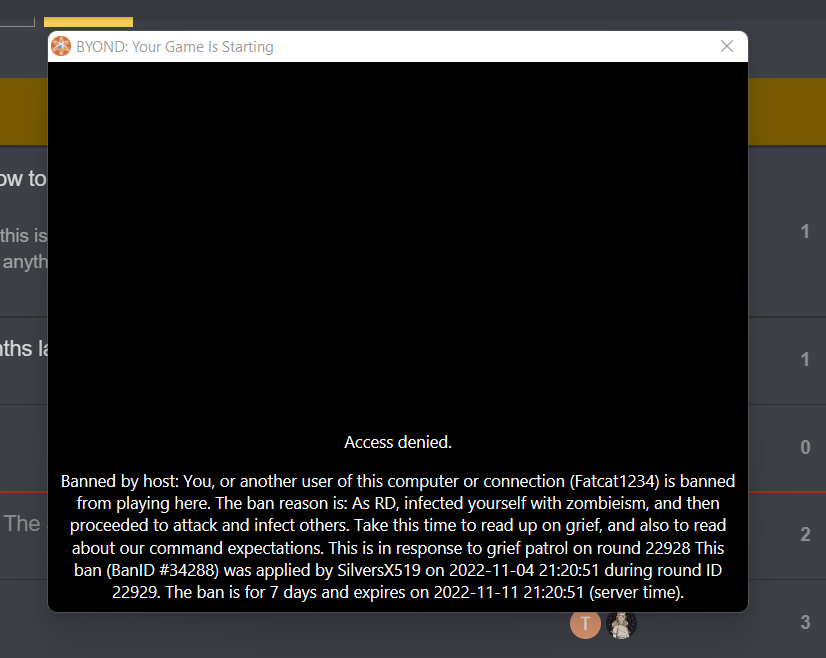 State your appeal: Well i was repley to Zeal but the topic got closed so here is my apology to them
I did ask for be zombiefied that is on me , my dead body was cuffed but i got uncuff when turn into a zombie ( Dunno how that work just ask the coder ) when i didn't notice i accident hit my coworker one , the first was one was accident then other one are not . That one i go too far
The mad scientist is quite true but i say was " I'm doing it for science " because i can yeah it was fun and stupid this is how i play Space Station 13 but this time im go off the limit again . Security did warn me about it but i trust myslef can handle it and i was wrong deeply wrong.
Well i'm masive dick head and uncontrol , i should stop myself as i can but i didn't that cost a ton of mess for Zhylel and her securirty team, they handle Nuke ops so well i respect them . What i did can't be undo , i really sorry for being suck a asshole and making a bad environment for everyone else i desevrd this ban .
Rule i broke :
Self Antag As RD turn myself into a zombie and continue spreading it
Ban Baiting I turn my coworker to to zombie, force them to be a zombie and making them casting trouble to other
Command Responsibilities As RD turn himself into a zombie and zombified his department ignore all other warning continue make a mess after security handle Nuke Ops
Lastly i just want to say im really sorry for the all the trouble i make to all people that round i shouldn't be making a huge mess , thank for reading this.