Byond Account: ChiliDog
Character Name(s): Jimmy Beeperson, Cardboard golem
Discord Name (ie: Name#1234):
Round ID of Ban: 22813

Ban Message (Gyazo/imgur or copy and paste):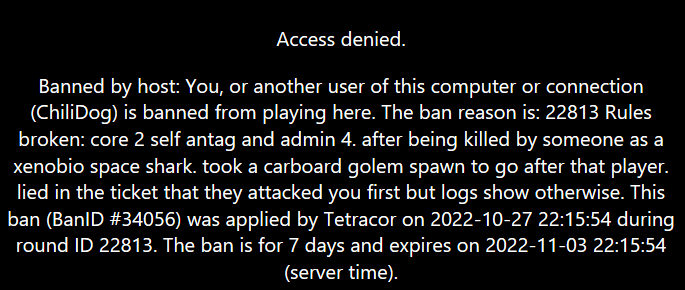 State your appeal: Some context, I got killed and became a ghost and transferred into a cardboard golem. There was a person in my previous life who kept trying to kill me over and over again, every time they got revived they would try to kill me. I saw that person again as a cardboard golem and shoved them, that was it. Literally one shove. After that, they took out a circular saw and tried to kill me. (This player was pretty much a complete shitter.) I'm sorry that I shoved them I guess, but I don't see how this warrants a 7-day ban, or how the person who tried to kill me over and over again for no reason got no ban. Admin said I "lied in the ticket" and "went after them" when in reality all I did was shove them once and they tried to kill me.