Byond Account: tramz
Character Name(s): Doctorino
Discord Name: tramz#9493
Round ID: 21345
Date: 7/23/22
Griefer IC name: Jay Owens
Griefer Byond account (if known): n/a
What happened: I joined midround and decided to spectate and become a borg. Jay Owens, the roboticist, gives me my new body, before immediately opening me up and changing my laws. I assumed that Jay was a traitor, and didn't object to anything he was doing because of that. After having my laws changed, he did this to another borg (who happened to be AI-less) and made it so we had to protect him.
This was the lawset both me and another borg were given by Jay.

Fast forward to later in the round, and there is this mime (named Silencio) that is really pissing Jay off, shoving him around and whatnot. Instead of dealing with the conflict himself, Jay then immediately tells me (a medical borg) to "OD" the mime, and to inject the mime with mindbreaker toxin. After I proceed to do nothing about the mime, he tells me to grab mindbreaker again, saying that he wants to "meme". I never ended up grabbing mindbreaker, but he once again reminded me that if I had the chems and saw the mime again, he wanted me to OD the mime.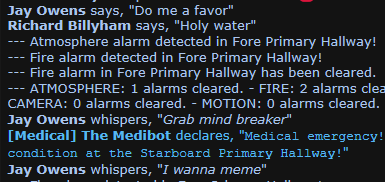 At the very end of the round, I checked the roundend report and lo and behold: Jay wasn't a traitor! Even better, Jay wasn't an antag at all! So he changed the laws of two borgs and told us to kill/harm when he wasn't even in the place to do so.