Byond Account: Sheets
Character Name(s): Eva Trounce
Discord Name: Sheets#6667
Round ID: 16355
Griefer IC name: Mach-Witseidutsei, Dravir, Leo Woods-(was an antag, but might help in logs ig) & an unnamed engineer
What happened:
I joined late as the HOS to find the captain had done an american gimmick and i THINK mach, the hop decided to hand out guns to ALL the crew, before the ai with hogan laws and the crew decided to do an election gimmick. Ahar was elected the new cap, me being stupid and not paying attention took an auth for execution from him, thinking he was the original, the warden Ellenor Sulyard then talks me into doing a hostile takeover and demoting them for authorising the execution of all "rioters" on sec comms and questioning the legitimacy of their election. Meanwhile im watching the 4 people listed above talk about killing the captain for their position on the bridge, so i ask them to go to brig with me, they all refuse and try running so i drop some flashbangs and they immediately open lethals, an engineer even trying to pull out a flamethrower. Sec comes and we gun them down, but dont recover the bodies because we were going to try contact centcomm and fix command. We arrest ahar a while later and im waiting on the bridge when Mach-Witseidutsei, Dravir & Leo Woods walk up, guns all drawn, i shoot first and manage to behead 2 and kill the last one before bleeding out from their mosin.
They then admit to doing it because theres no admins in dchat (paraphrasing) and someone thinks that means theyre allowed to break the rules when theres no admins on.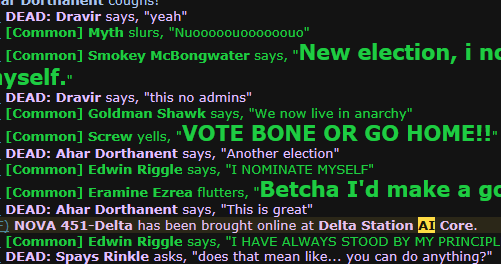 I have no idea where the real captain (smokey mc. bongwater i think) was the whole round and im pretty sure mutiny isnt in the HOP's job expectations.
also forgot to mention ahar, the elected cap was promoted from det