Okay, I need to cover two things that happened in one round. Hopefully it's okay to see them both in one report.
Byond Account: iWarwolf
Character Name(s): Ryan Hawkins
Discord Name: Warwolf#6174
Round ID: 14941

Griefer Byond account: Unknown
Griefer Byond name: Alan Grant
What happened: 

Just the previous round I had stopped them completing their Antag goals of stealing the SM sliver while they were a Paramedic at round start. Cut to this round, they were now an Engie and then this exchange happens. (There's some more stuff before the screenshot.) Im wondering if they were meta-grudging me after the last round. Anyway, they throw themselves into the SM, setting it off into a delam early but I managed to save it. Either they were antag rolling or they were just being hateful over the last round.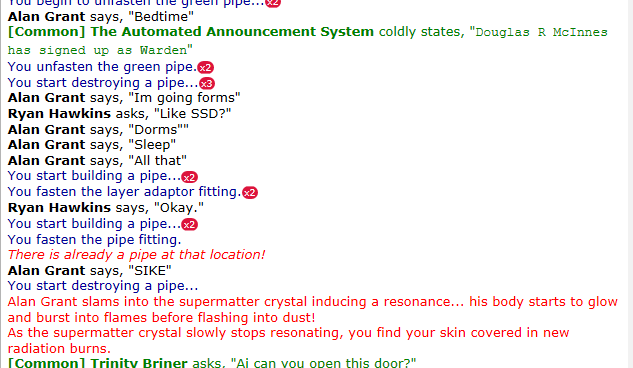 Not the best round I've had tbh.