Byond Account: johnwillard
Character Name(s): John Willard
Discord Name: John Willard#6211
Round ID: 13808
Griefer Byond account:
Griefer Byond name: Kyra Garneys
What happened:

I didnt start taking screenshots because I didnt expect to be writing a grief patrol, but I did later on.
The AI revealed themselves to be malf, with me as their objective, and additionally said they are going to try to complete their assassination (me) objective. Before I go further, I'd like to mention that when this was brought up, Kyra said that they would personally like to help the AI murder me, and their reasoning was as follows:



Very subtle about metagrudging, I know.
Me, as both the Research Director and their target, with the help of my Science Deputy, discretely carded and kill the AI. I then built a new core and waited for a new positronic brain personality to replace the AI.
We then revealed that the AI had been dealt with, and Kyra, likely hoping I would've been murdered instead, starts seething in Command comms about how I should be demoted, if not executed.
Here's a few highlights of the argument we had, which lasted just about throughout the entire round,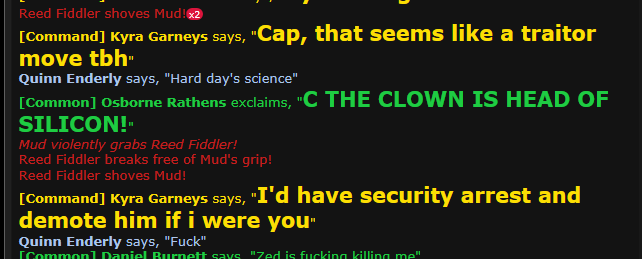 They said this twice, and yelling out someone has a steal objective…



Bonus image I personally just wnated to share: