Byond Account: Mtgovers
Character Name(s): Maxim Bould
Discord Name (ie: Name#1234): Valus#8089
Round ID of Ban: 20192

Ban Message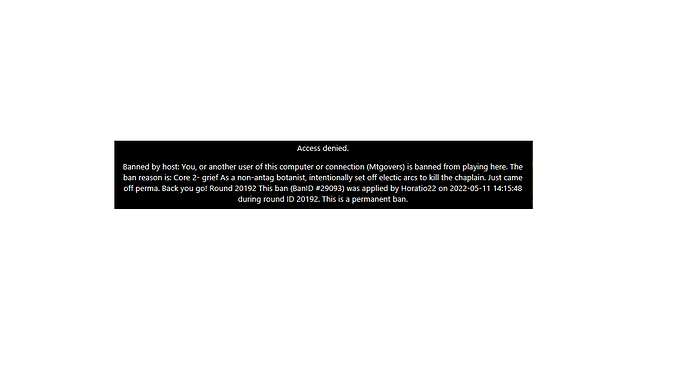 Sorry for the bad picture
State your appeal:
Sorry to everyone involved. i really acted stupid and caused a situation that was unfun for everyone. After i got banned i accepted the ban reason because what i did was completely stupid to do after i was just unbanned.
What happend from what i can remember is going into the fighting ring with the chaplain, a fight ensued with i think me provoking it and it ended in me shocking the grills with a iron bar multiple times. The chaplain was running after me trying to kill me while i ran out of the church wich was understandable with me shocking the grills. It wasnt my intention to kill him but i think with all the multiple shocks that he was completly valid in his response to act. from what i can remember i then when i ran out of the church i got the ban message from Horatio.
so that is what went down , i think it was a case of:
1). Escalation resulting in murder is only acceptable within reason. If your life is in danger, you can always fight back lethally, or if a conflict with the other player has lasted throughout the round with multiple fights . In most cases, fights end when one party enters critical condition or is otherwise incapacitated. Theft, break-ins, demotions, destruction of property, getting pranked and other inconveniences are not reasons to murder another player or put them into a life or death situation. Ask what a rational person would do and act accordingly.
i think it was a case of escalation but as stated the fight ends when someone is in critical condition and not murder and so far as i can remember no one died and i was planning on bringing them to medbay if they went into crit. Still because of the time that has passed i dont remember the events that went down completly and well.
The thing i definitely did do wrong was acting stupdily right after i was unbanned which ofcourse is logical because you will be closely watched after you get unbanned to see if you can behave. I hope that i can come back to the server and show that i can behave. I have read the rules again several times and also waited and worked on myself for 2 months to get myself together.
So that i hopefully can come back to the server sometime in the future
Greetings Max