Byond username: ChonkyLord
Discord name: NJ#8984 - Otto / Clunk
Join date: Mid 2020, not certain on the exact date.
Hours you've been on the server: 1,227.7 hours as of this moment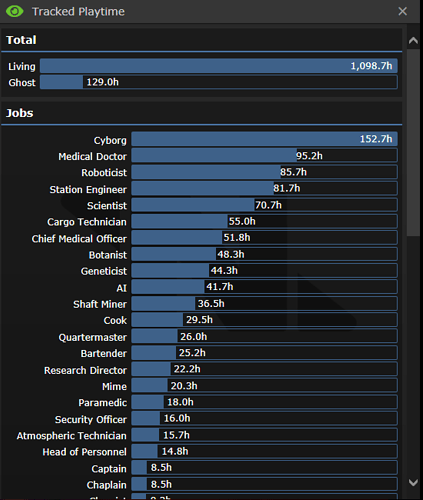 When are you online or available to get on: For the most part I'm always around for numerous reasons that I won't get into unless asked but I assure you I'm usually lurking with intent.
How long have you been a mentor? (Note: only current mentors are eligible to apply for mod): I've been a mentor somewhat over a month maybe a month and a half? Honestly not sure.
Do you have prior experience being a moderator: Not on Fulp or using byond and frankly it's been so long since I have had done something like this that I think it's just easier to say "No".
What is something you feel you do well: I've a few times reported things to the staff when I've noticed it and stopped a few players in the middle of doing something stupid (Example being stopped someone who was "bored" monkey bombing medbay.) I like to think I get along with the community and people do like me regardless of being a miserable bugger at times. But for the most part I enjoy being a mentor and helping out if I'm able.
What is something you wish to change: It's hard to say really I have no real qualms with how the server is run or how things are currently. I suppose I kind of want to keep it that way? Use the free time I have to help out.
Additional notes: Unfortunately I'm British, this may get my application declined but I thought you should know. To sweeten my application here is my cat in a tie