Byond Account: johnwillard
Character Name(s): John Willard
Discord Name: John Willard#6211
Round ID: Several unknowns & 14531
Griefer Byond account: PhoenixF0x
Griefer Byond name: F.O.X - Marvin - Wooden Golem (324) and possibly others - Phoenix
What happened:
They constantly ick ock/ock ick during rounds, and their argument for why is saying that 'ick ock should be allowed anyways', backed by the argument they had in criticisms about how they think the rule should go. They obviously believe so, because they act like it doesn't exist. Here's a few examples;
Most recent one, round ID above
I was murdering the golems with an actual IC reason (which I can explain more if needed), they decided to ock ick this to me;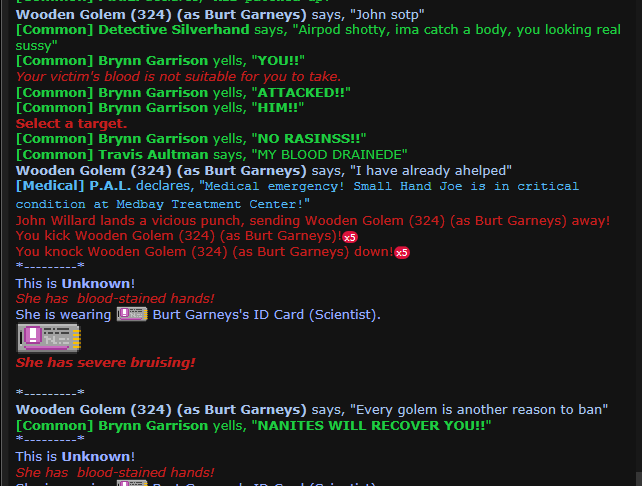 After this interaction, I walked into xenobio and noticed a new golem of the same type. While I am not sure it is him, it sounds just like them;


Additionally, once the round ended, they declared this;


I do not have Round IDs for everything below
---
And here's other examples of their ick ock/ock ick;



And other than that, they've also been going against laws as Silicon;
As an Asimov Engineering cyborg, opened the Vault to everyone when no one law 2'd them to do so



And have been making "jokes" like such;


My only regret when making this grief patrol was not keeping track of this sooner, because otherwise I'd have MANY more examples to give.