Byond Account: Volren
Character Name(s): Slippy Johnstein
Discord Name: Protosaurus
Age: 29 (auld man)
Timezone: BST/GMT
Active hours: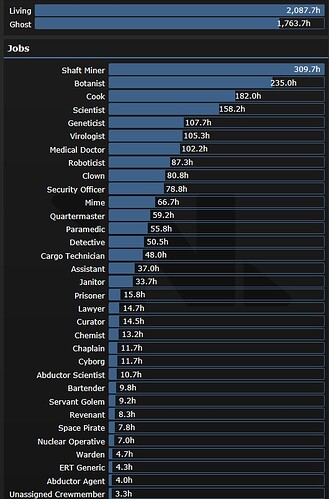 Are you interested in becoming a mod? Maybe in the future since I enjoy observing anyway.
How long have you played on Fulpstation? Since spring 2019. I first joined Byond as wee lad in 2005.
What departments are you able to be a mentor for? Can you elaborate on your experience in those departments? I can mentor for Supply, Medical, Service and Security. I know a fair bit of Science and Engineering, but there are gaps in my ability when it comes to Ordinance and Circuits in Science and SM/Comms/atmos/HFR set up in Engineering.
What are some things you've noticed as a player on Fulp?
Fulpstation has a great balance between LRP and HRP, roleplay is conducted on player's own terms with only "do your job" being a requirement, this allows for a larger variety of organic player interactions that you just don't get on other servers because the relative skill level of most players has less variance. It's this that has kept me coming back all these years.
Addendum: I do have several bans on record and understand this has to be considered by you guys before you accept or decline the application, I'm not about to make excuses for myself or any of my bans, I'll only mention that my last ban was at the end of last year, 300 in game play hours ago and my most recent note was a positive note from Maxspells & have been trying my best to keep my roleplay standards high after DMing my own DnD campaign with 5 other people altered my attitude to roleplaying in general.