Byond Account: OneTortoise
Character Name(s): Rays-The-Almond / Health Analyser Hoarder / Voltage
Discord Name: Tortoise
Age: 19
Timezone: GMT+8
Active hours: Night
Are you interested in becoming a mod?: No.
How long have you played on Fulpstation?
Around 1200 hours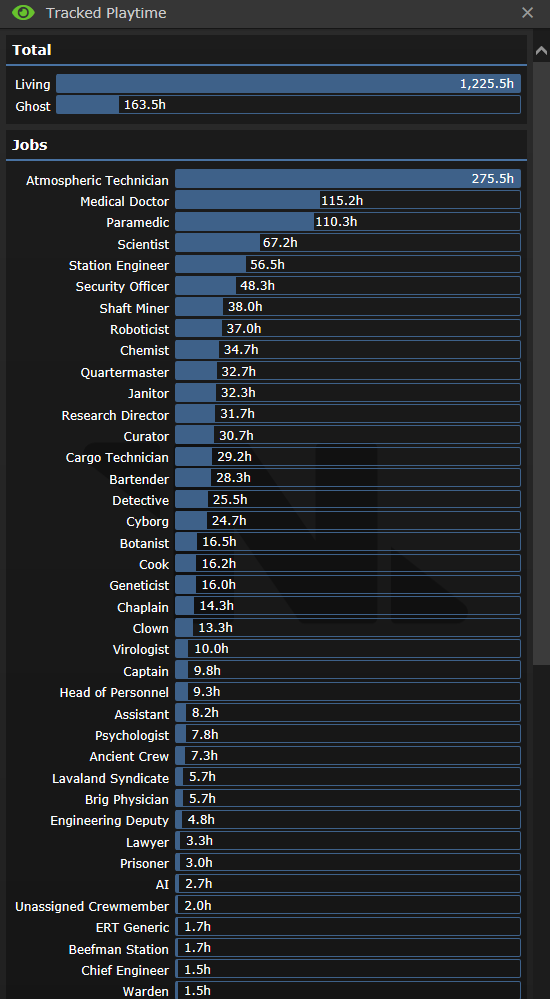 What departments are you able to be a mentor for? Can you elaborate on your experience in those departments?
Hi
I don't have a main. I do almost every job, but I would say I have the most experience in engineering or medical.
Engineering
I know how SM works fully and how to stop it from delamination. I know the construction, machine, APC, solar, etc.
I have most hours as an atmosphere technician, and I know how to quickly fix the station's atmosphere issue and know how the atmosphere works in general.
I also have experience with mixing gas, HFR, and crystalizer. So far I have successfully mixed every gas except Zauker, and have operated plasma/o2, tritium/h2 HFR a few times without issue before, but mainly I put focus on repairing the station still.
Medical
I have a deep understanding of how medical works. I know how to handle different types of injuries. I know the biology of different species and how to treat them.
I also know how the ph system works, and how to make pure medicine. I know basic plumbing and had run Salicylic Acid, Oxandrolone, Salbutamol, Seiver, Synthflesh factory without problem before.
I know virology and how to make good diseases and vaccines.
Also, last time I played paramedic was four months ago.
Supply
I am familiar with how both new and old cargo system works. I know how to stamp manifest, scan bounty cube, use the express console, mine enough, ores for the station, the movement pattern of lavaland faunas, etc. I also did drone exploration a few times before.
Service
There isn't much to say about service, but I can handle most service jobs well, either making the table full of food/drink or supplying enough plant to the kitchen. I know hydroponics- its plant grafts, mutation, etc.
Except for mime.
Science
I know how to do toxin mixing(ordnance) and make maxcap, basic xenobiology, and experiments. As research director, I can manage to get all T4 parts 20-25 minutes into the shift.
I know genetics and basic DNA modification. I have completely zero idea how CRISPR works, however.
I know how to build, repair, upgrade, or sync cyborg. I know how to build mech, modsuit, borg/implant someone. I also know how to check the borg emag log.
Security
I do not perform well during combat, but I do know how to deal with different kinds of antags and situations. I have successfully dealt with rev, heretic, cult, bloodsucker, etc before, and know well how to counter them.
Command
I fully understand the responsibility and expectation command has. I know to research, manage my department, communicate with my department and fellow commanding officers, or even demotion.
yeah
What are some things you've noticed as a player on Fulp?
There are a lot of new players on fulp. I could see at least 5 new interns every shift, and it is pretty nice teaching them and watch them grow.
I upload the app at 2am. I might miss something, uhm… yeah.