Byond Account: Snootypip
Character Name(s): Pip
Discord Name (ie: Name#1234): Beanslayer
Round ID of Ban: 23012

Ban Message (Gyazo/imgur or copy and paste):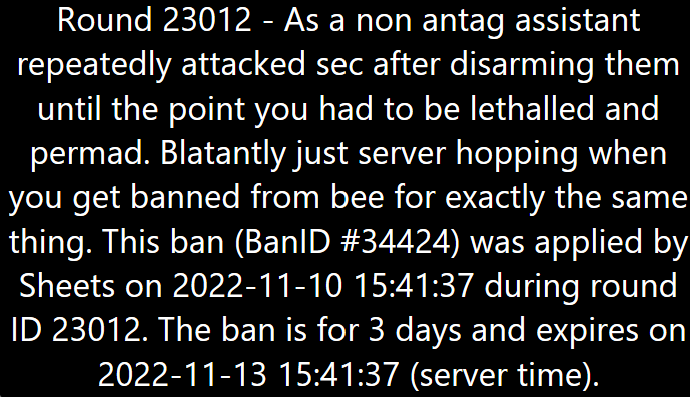 State your appeal: What happened here is not at all what the ban reason says so first let me clear that up, at the start of the shift me and the clown were slipping each other and messing around when the hos came by and I pushed the clown into him knocking them both down, then when he got back up he got upset and tried to baton me so i slipped him and took his baton, after getting up from being slipped he simply said "set to arrest" and walked away, i though it was wierd but didnt think to much after that, on my way up to sec to return the baton two officers started chasing me no questions asked so i ran to try and lose them to not be arrested for something kinda silly as this, they got me after a bit of running around and took me to prison where I was left buckel cuffed in a cell [against space law btw] after asking for a lawyer to sue due to being left cuffed to the bed after about 7 mins passed of my 12 mins brig sentence for assault and theft the warden came in to uncuff me when i ran out of the cell and was stunned beaten lethaly and throw into the isolation cell injured, i pda messaged the ai for assistance because they threw me in with everything on me and he let me out where i tried to get to med when i was stunned again and lethaly shot at and harm batoned while in handcuffs and already injured where i was put into crit while cuffed. The admins ban reason dosnt make any sense in the slightest due to the fact im not banned from bee station and took about a 2 year break from the game just recentally Coming back to it to find out the security is still horrible as always blatently not following any laws/rules, iv also have only played on fulpstation ever since coming back to the game so his claims of me "server hopping" are blatently untrue. I'd also like to say the admin banned me with little discussion at all when i only have like one note on this server and its not even true to begin with. Im just a bit shocked how I was the one here to recieve punishment when sec who shoot people with lethals while in cuffs get away scott free. overall this seems like a lazy ban in my opinion the admin didnt really listen at all to what was going on probaly being pressured to do something because the warden ahelped because IC breaking the law dosnt exist if you are not an antag apperentally, she saw no tot gear on me so its an ahelp to see what the admin would say to determin if i was antag or not. But yea, just a bit upset here for how things went down being left in isolation for what started as pushing the clown into the hos and him getting mad at it leading up to me being lethaled in handcuffs while grabbed by the warden.
(Edit): i also want to add that me and the clown were harmlessly playing at escape having a slip battle when the hos wearing his full hardsuit for some reason decided to self insert himself into the situation and got upset when he was so mildly inconvenianced in the situation he put himself into, my intention was not to spend a chunk of the round in jail because someone who had department power cant handle getting pushed.